TALLAHASSEE, FL. March 19, 2020 – As many schools and districts across Florida cancel classes beyond spring breaks to lessen the spread of COVID-19, Florida PBS stations are banding together to support at-home learning for students by delivering a new weekday television schedule of educational programs.
These programs are aligned to state standards, and are free and accessible from home.  Most of the stations across the state will begin broadcasting these programs Monday, March 23rd at 6 a.m.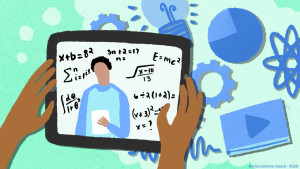 "Florida's public television stations have been dedicated to ensuring the health, welfare and education of our youngest viewers for decades and have a long-standing partnership with the state of Florida", said Randy Wright, Executive Director of WUFT-TV/FM in Gainesville-Ocala and chair of Florida Public Media.
"We can continue to play a critical role in providing trusted, aligned educational resources for students, parents, teachers and caregivers during these challenging times.  This unique and special educational programming and PBS Learning Media are extraordinary tools that are easy to access from home and they're made available as a free service from Florida's public media."
At-Home Learning Stations
WEDU – Tampa/St. Petersburg
WFSU – Tallahassee/Panama City
WGCU – Ft. Myers/Naples
WJCT – Jacksonville
WLRN – Miami
WPBT – Miami
WSRE – Pensacola
WUCF – Orlando
WUFT – Gainesville/Ocala
WXEL – Boynton Beach
Stations are dedicating a daytime weekday schedule on their main or other channel. The new 6 a.m. to 6 p.m. schedule includes specific blocks of time for Pre-K through 12th grade levels and covers subjects, including English language arts, social studies, science and math.
"Many students in our area do not have the needed computers, printers or even internet to make online learning possible to the extent needed to make an at-home learning environment, but they do have a television," said Tasha Weinstein, education and engagement manager at WFSU Public Media in Tallahassee.
In the weeks to come, Florida stations will be sharing local content and other resources that can specifically support the needs of teachers and students.
###
Florida Public Media is the association of public radio and public TV stations throughout Florida.
PBS KIDS, the number one educational media brand for kids, offers all children the opportunity to explore new ideas and new worlds through television, digital platforms and community-based programs. Kidscreen – and Webby Award-winning pbskids.org provides engaging interactive content, including digital games and streaming video. PBS KIDS also offers mobile apps to help support young children's learning. The PBS KIDS Video app is available on a variety of mobile devices and on platforms such as YouTube, Roku, Apple TV, Amazon Prime, Android TV, Xbox One and Chromecast. For more information on specific PBS KIDS content supporting literacy, science, math and more, visit pbs.org/pressroom, or follow PBS KIDS on Twitter and Facebook.
For additional information:
Patrick Yack
Executive Director
Florida Public Media
pyack@nullfloridapublicmedia.org
850-591-1031