GAINESVILLE, Fla.  – Florida residents and visitors have a new resource to help them prepare for destructive storms and other emergencies.  The Florida Public Radio Emergency Network (FPREN) today launched Florida Storms , a free, mobile weather application that offers a simple way to stay informed of potential weather and other hazards, backed by real-time credible information from the nearest Florida public radio station.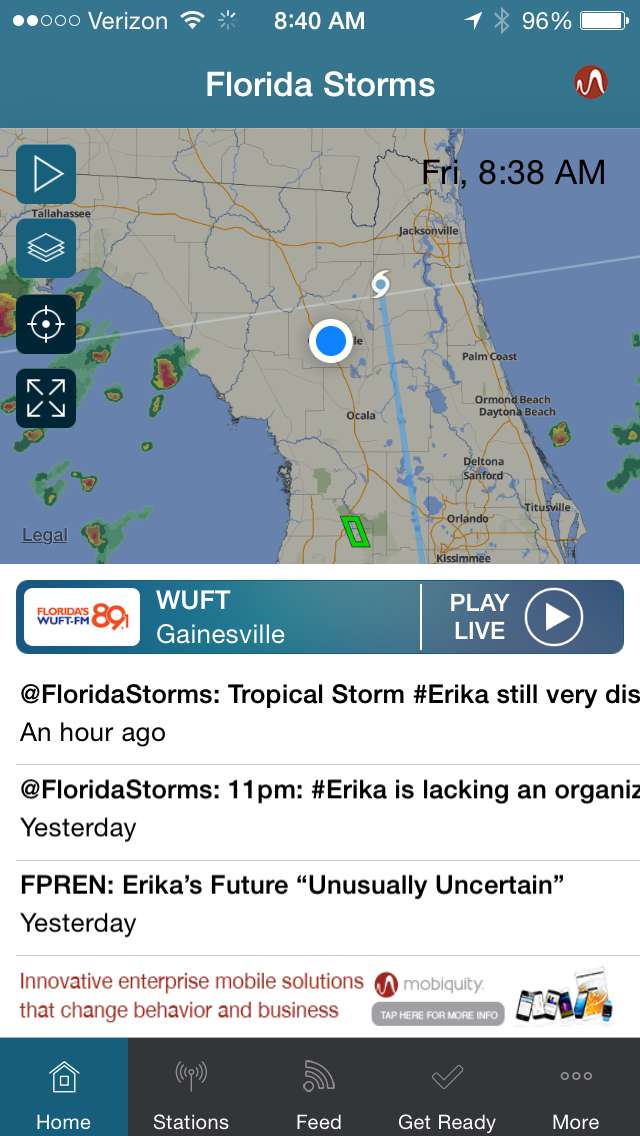 Using a combination of state of the art weather tracking and forecasting technology and the expertise of staff meteorologists at WUFT-FM, the University of Florida College of Journalism and Communications public radio station and host to the FPREN StormCenter, Florida Storms helps deftly navigate weather-related emergencies, from preparedness checklists to storm updates to evacuation routes.
"Millions of people visit this state every year, and millions more have moved here since a hurricane last struck our shores ten years ago," said Jeff Huffman, Florida Public Radio Meteorologist at UF. "Think about this: Twitter, YouTube, and even the iPhone weren't around when Wilma made landfall back in 2005. To say there will be a lot of Floridians experiencing a potential disaster for the first time on social media or the smartphone is an understatement. We hope Florida Storms will help them cut through the noise and come to rely on a service that's been proven for decades to be there in time of need, which is the backbone of public radio."
FPREN communicates emergency information statewide through a seamless system of free over-the-air FM radio stations. The new mobile app extends the reach of the Florida station network with reliable and immediate accessibility on weather developments.
"The launch of the Florida Storms app is the natural next step into mobile distribution of the critical lifesaving information FPREN provides," said Randy Wright, executive director of WUFT-FM and the Division of Multimedia Properties at UF's College of Journalism and Communications. "The features of the app are groundbreaking and it's very user-friendly.  Combine that with it being available at no charge equals what we believe will be an essential mobile tool for Floridians and visitors to our state."
The iOS app, now available free in the Apple App Store, was developed in collaboration with mobile engagement provider Mobiquity. An Android version will be ready early this fall.
Among the features of the new app are:
Weather map: Clean and fast national radar with 1-hour past loop and future radar up to 48 hours, including current temperatures, wind speeds and lightning data
Radio streaming: Live stream of nearest FPREN partner station, with ability to customize based on desired location
News feed: Multiple feeds of real-time watch and warning information from various sources, with simultaneous advisory text and radar view
Emergency preparedness: Information for a weather disaster, including what to do before, during and after a storm
Push notifications: Customizable, from the National Weather Service and the National Hurricane Center.
The app can be downloaded here: https://itunes.apple.com/us/app/florida-storms/id1011397030?mt=8
Florida public radio stations joined forces with the Florida Division of Emergency Management to form FPREN in 2014. The FPREN Storm Center is operated by WUFT-FM at the University of Florida's College of Journalism and Communications providing local 24/7 weather, data and storm updates to all stations in the network.
 FPREN stations collectively cover 99 percent of the state and are locally staffed and equipped to stay on the air even during times of massive power outages in order to deliver important information to local audiences before, during and after an emergency. In the event of a weather incident, the FPREN stations will continue to provide recovery information for as long as necessary. Working in partnership with the Florida Division of Emergency Management and local Emergency Operations Centers, listeners and users of the mobile app can be assured of having access to the most up to date information.
FPBS is a non-profit association of public radio and public television stations in the state of Florida. As the largest broadcasting network in the state, we reach more than 99 percent of Florida's population through traditional broadcast, online tools and community engagement. FPBS stations are a state partner in education, emergency management and public affairs. Through our collaborative efforts, we identify and implement regional and statewide projects that enhance and sustain community initiatives that serve the citizens of Florida. For more information, visit the FPBS website at www.fpbs.org.