Florida public television stations have long been a leader in providing educational programming and other valuable resources and tools to countless numbers of students, teachers, parents and caregivers.
In 2020, as schools throughout the state canceled classes because of the Covid-19 pandemic, Florida public TV stations provided essential At-Home Learning programs and associated digital materials for the entire state.
One example is WUCF.org in Orlando where the station provides extensive At-Home Learning digital resources for teachers, parents, and students. WUCF-TV is recognized nationally for its innovative approach to education.
Its Meet the Helpers initiative in teaches children about important community helpers so they are better prepared in emergency situations.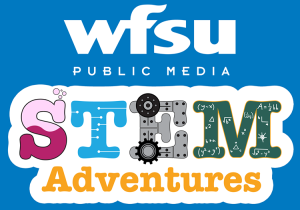 Another long-time leader in community outreach can be found at WFSU Public Media in Tallahassee. It is a proud Ready To Learn (RTL) station piloting PBS RTL resources to establish best practices with content that can be used in all sorts of learning environments throughout the state. The station routinely provides digital, in-person and virtual training opportunities.
South Florida PBS in Miami is also widely cited as an education leader in public broadcasting. KidVision Pre-K makes learning for preschoolers lively and fun for teachers, parents and children. Two of the most popular initiatives feature the Virtual Field Trip that bring people and places right into the classroom, and Miss Penny who reads a story every Friday at 1 PM live on Facebook and Youtube.
Most of our stations carry the 24/7 Kids Channel – a channel devoted to the best in PBS programming for children.
Recognizing that many children watch television during prime time and throughout the weekend, our stations met that need with the new channel. Our stations continue to carry award-winning programs such as the newest favorite Molly of Denali.
As a leader in digital education, PBS combined its world-class programs and technological savvy to create PBS LearningMedia, an extensive online library of learning resources and made them free to everyone.
PBS LearningMedia carefully curates content from federal agencies such as NASA, National Science Digital Library, The Library of Congress, and the Smithsonian Institute, with original content from public broadcasting producers and programs like WGBH, NOVA, Frontline, American Experience, Sid the Science Kid, and The Electric Company, all in one place.
The Story of Florida PBS LearningMedia
With the support of the Florida Legislature, in 2014, Florida Public Media and its member stations partnered with PBS to create the Florida PBS LearningMedia, a first-ever custom platform aligned to Florida's unique state standards featuring premium content not available anywhere else.
With a state mandate that half of classroom instruction be through digital resources, Florida PBS LearningMedia has quickly become invaluable to teachers across the state. A simple search by grade level, subject, or specific state standards lets educators access a wealth of interactive content to enhance lessons taught in the classroom.
These educational assets give teachers tools to expand their lessons, demonstrate difficult concepts, and reach students with different learning styles, creating a classroom experience that is deeper, richer, and has a greater impact on student learning.
Florida public broadcasting stations have been integral to this effort throughout, offering hands-on trainings to educators, working to raise public awareness of the resources that Florida PBS LearningMedia provides, and partnering with organizations throughout the community to create Florida-specific assets within the system.
"My child and I find it to be an invaluable resource. PBS LearningMedia is a wonderful supplemental tool to enhance our educational journey."Homeschool Educator
Because Florida PBS LearningMedia is a free, open platform, the Florida custom service is available to everyone in in the state. Besides professional educators, any parent, grandparent, mentor, homeschooler or after-school care provider can use Florida PBS LearningMedia to teach and to stimulate children's understanding and interest in just about any subject, from STEM to history and the arts.
Through the Florida PBS LearningMedia, access to high-quality, standards-aligned educational content doesn't end at the last bell of the school day.
In world where a child is as likely to be engrossed by a tablet as a storybook, increasing the availability and reach of trusted educational assets is vital to increasing student knowledge and engagement.
"I find PBS to be invaluable. The amount and quality of resources available is amazing. By having them readily online, they are instantly available at school or home. Wonderful for planning, teaching, remediation, and enrichment" High School Media Specialist